The pond area - view from each end.
Deck grow bed is mounted & operational / New planters above large pond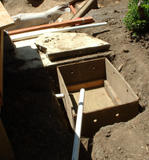 Pump box to keep it protected / Small pond ready for liner
Waterfall/Stream ready for liner


Trying to finish up on a few items before I put the pond liner in. I need to make sure that all the construction and landscaping that might cause debris or hardware to fall into the pond is finished before I can install the liner. Also need to make sure I have some filtration and the pump in place so the water can cycle. I estimate about 5 more days to be ready for the liner.